Text 2
Laser Semi-Welded Module
Background
In the past no satisfying solution was offered using gasketed plate heat exchangers for special process conditions or aggressive media. The limitation was always the gasket material. For this reason, the complete ThermoLine-plate heat exchanger program was also made available in a laser welded configuration. Thus, a new field of application was opened for special process conditions, also taking into account environmental and safety requirements.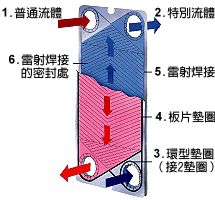 Text 3
Advantages
Compact design, low weight.
Quick and low cost installation.
Excellent heat transfer coefficient.
Minimm risk of leakages.
Gasketed heat transfer surface easy to clean.
High flexbility.
Low hold-up volume.
High corrosion resistance.
Flexible capacity extension.
Working Principle
Two heat exchanger plates are welded together to a gas-tight module by means of laser technology .By doing so, a flow channel for the aggressive (or the gasket attacking media) is built, which is hermetically closed to the outside.
Only two ring gaskets, made of high resistant material located in the port holes between two welded modules, are in contact with the aggressive media.
The other flow channel for the non-aggressive media is sealed by various elastomer gaskets, depending on the individual application. The gaskets are normally fixed without the need for glue but are also available in the glued-on version. The leakage between the two media is prevented by a double weld, and a double ring gasket in the port holes. If a leakage occurs for any reason, the leak will be external and easily detected.
In spite of the use of welded modules, the proven flexibility of plats heat exchangers is maintained. By adding or changing modules, the heat exchanger capacity can be adjusted to the individual requirements.
The laser welded modules can be used for temperatures from -40oC + 170oC, and for pressures up to 25 bar.
Plate Structures
PLATE TYPE
CORRUGATION DEPTH tp (mm)
PLATE THICKNESS S (mm)
CORRUGATION ANGLE A
Power Line PL
2...2.5
0.5...0.8
30°
-
Standard Line SL
3.5...4
0.5...0.8
30°
60°
Laser Semi-Welded Plate Types
| | | | | | | | |
| --- | --- | --- | --- | --- | --- | --- | --- |
| | | | | | | | |
| Plate type TL | 90 | 150 | 400 | 250 | 500 | 650 | 850 |
| Port hole (DN) | 40 | 40 | 80 | 100 | 100 | 200 | 200 |
| Length (mm) | 721 | 981 | 1383 | 1014 | 1495 | 1495 | 2034 |
| Width (mm) | 244 | 244 | 369 | 437 | 437 | 586 | 586 |
| Length / Width | 2.95 | 4.02 | 3.75 | 2.32 | 3.42 | 2.55 | 3.47 |
Laser Semi-Welded in R22 / R134a Refrigeration Application
R22 / R134a
TEMPERATURE RANGE
GASKET MATERIAL
Evaporator
-30°C to -20°C > -20°C
CR-LT
CR-NT / CR-HT
Condenser
< 130°C
CR-HT
Desuperheater
< 130°C
CR-HT
Laser Semi-Welded in NH3 Refrigeration Application
Ammonia
TEMPERATURE RANGE
GASKET MATERIAL
Evaporator
-40°C to -20°C > -20°C
NBR-LT / CR-LT
CR-NT / CR-HT
Condenser
< 130°C 130°C to 150°C
CR-HT
HNBR
Desuperheater
< 130°C 130°C to 150°C
CR-HT
HNBR
Oil Cooler
< 110°C 110°C to 150°C
NBR
HNBR
Laser Semi-Welded Plate Material
STANDARD MATERIALS
THICKNESS
1.4301(AISI304)
0.5mm~0.8mm
1.4404(AISI316L)
1.4571(AISI316Ti)
Laser Semi-Welded Plate Material
SPECIAL MATERIALS
THICKNESS
1.4529
0.6mm~0.8mm
1.4539(UNS N08904)
1.4541(AISI 321)
1.4547(SMO 254)
2.4068 Alloy 201
2.4602 Hastelloy C-22
2.4610 Hastelloy C-4
2.4819 Hastelloy C-276
2.4858 Alloy 825
3.7025 Titanium Gr.1