Feature Article

The Worldwide First e-bus equipped with KAORI CO2 Brazed Plate Heat Exchanger
3525
reads
The very first electric bus equipped with KAORI CO2 Brazed Plate heat exchanger has been operated by the public transport company in Europe since 2019. After 10 years of intensive summer and winter viable range tests, KAORI's patented CO2 Brazed Plate heat exchanger is proven as a great part of e-bus CO2 Heat Pump system by global vehicle manufacturers, with sophisticated technology achieving its goals.
The CO2 Heat Pump provides not only the heating and cooling for the passenger compartment, but is also integrated in the battery thermal management system to provide optimal operation temperature for maximum range and battery lifetime.
CO2 as a refrigerant for EV's air conditioning system has been one of the most popular trends to maximize the energy saving and drastically reduce CO2 emissions.
While using HFC or HFO refrigerant for EV Heat Pump and Battery Thermal management system under cold condition, heating and cooling of the passenger compartment consumes more energy. By selecting the CO2 heat pump technology with its excellent thermodynamic properties, the situation can be highly improved due to the higher COP of CO2 result in lower energy consumption. Moreover the heating source is from ambient air via the thermo dynamic cycle, not from the fuel or electricity.
The battery thermal management system for electric vehicle needs to maintain the proper operating temperature through the cooling and heating of the battery coolant during charging and discharging. The CO2 heat pump system provides perfect temperature control, eliminating the need for additional thermal assistance like electrical heater, and thus contributing to the improvement of battery life and energy loss.
In an unprecedented science-backed statement, Europe's truck manufacturers have concluded that by 2040, all new trucks sold need to be fossil fuel free in order to reach carbon-neutral by 2050. More and more luxury automobile manufacturers announce Electric Vehicle for the future market.
The next wave of Electric Vehicles are not only cars, semi-trucks, there are much more. For example, China high-speed train air-conditioning system manufactures are investing into development of CO2 refrigerant system very quickly. KAORI CO2 Brazed Plate Heat Exchanger is proven by China Railway Group research team. The team has completed 45kW KAORI suction line Heat Exchanger specifications verification, ready for Kaori to play as a vital role in the new era of R744 (CO2) heat pump system applied in public trains.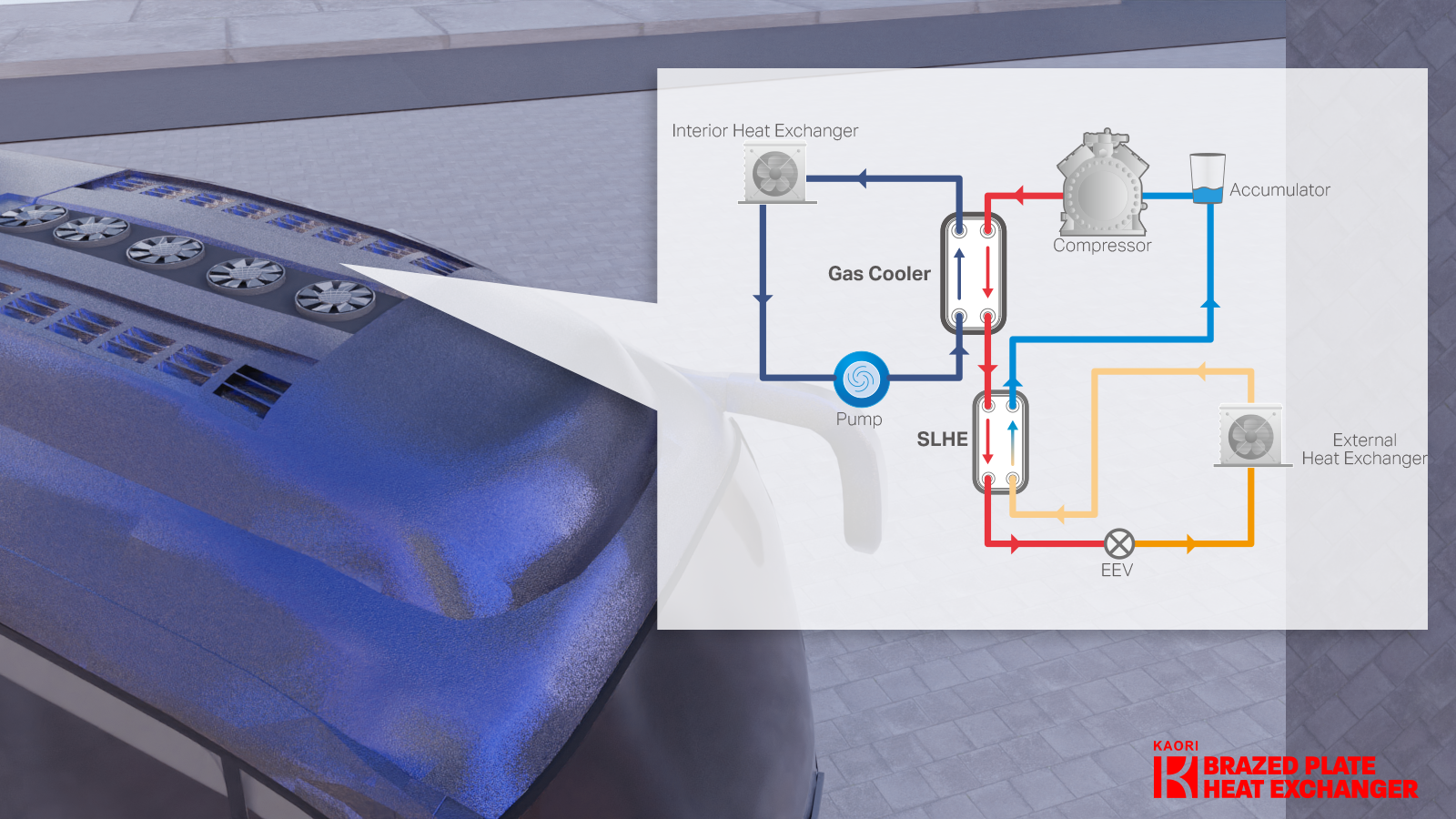 KAORI CO2 Brazed Plate Heat Exchanger can be used not only as the suction line heat exchanger, but also as gas cooler, evaporator, etc., in CO2 system. Its highly optimized plate design helps the space required smaller than other heat exchangers, and its lighter weight also helps the overall thermal system design more compact.
By equipping state of the art CO2 natural refrigerant, a higher COP (Coefficient of Performance) heat pump systems and battery pack thermal management system will enhance EV driving range, providing a sustainable transportation that is ideal for the environment. And for passengers, it creates quite compartment, eliminates harmful exhaust emissions, and brings benefits to the air we breathe.
---
About Kaori BPHE
Since its establishment in 1970, Kaori has been pursuing cutting edge thermal technology and manufacturing world class products.
Kaori Brazed Plate Heat Exchanger (BPHE), as the leading manufacturer, has been devoted to developing green products and offering thermal management solutions across more than 70 countries since 1994. KAORI provides energy efficient solutions for HVAC, refrigeration, cooling, heating, heat recovery, green energy and other industries. By building upon Kaori's prior experience in brazing technology for industries and automotive manufacturers, maintaining the culture of customer-oriented product development and service, Kaori's BPHEs quickly became well-known brand all over the world.
In recent years, KAORI has been recognized for its superior brazing expertise, innovative heat transfer technology and high-quality standards. Kaori has embraced a partnership approach wholeheartedly, focused on developing and manufacturing heat transfer components to create better green energy systems. Kaori continues to invest in research, develop the latest thermal technologies, and manufacture world-class quality with cost-effective energy saving products for businesses around the world, and protect the environment together for future generations.