Text 2
Exclusive Free-Flow Design
Competitive plate heat exchanger designs claim wide-gap advantages, but pinch points in their design can block flow and create slurry buildup. The Free-Flow's channels handle bigger particles and require less maintenancebecause they are of a constant width.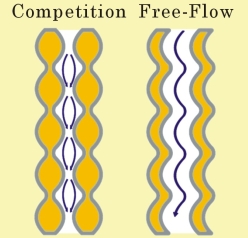 Text 3
FREE-FLOW PLATES
FREE-FLOW CONNECTIONS AND PRESSURES
MODEL
STUDDED PORT SIZE*(in.)
OPERATING PRESSURES+
AT161FF
3
up to 86 psig
(6.9 bar)(6kg/cm2)
AT40FF
4
up to 150 psig
(11.3 bar)(10.5kg/cm2)
AT184FF
8
up to 86 psig
(6.9 bar)(6kg/cm2)
AT192FF
12
up to 86 psig(6.9 bar)(6kg/cm2)
MATERIALS OF CONSTRUCTION
PLATES
GASKETS
T304 stainless steel
Nitrile (NBR)
T316 stainless steel
Ethylene Propylene Rubber (EPDM)
Titanium
Silicone
Avesta SMO 254
Viton
Hastelloy
Butyl (Resin Cured)
Nickel
Hypalon
Incoloy
* Standard studded port-type connections provide maximum cost effectiveness and are available from stock. Lap joint and weld-neck flanged connections are available at additional cost with longer delivery. + Temperatures up to 300℉(148.90℃) are available on all models.