Latest News

EDA Applications Get a Performance Boots with Immersion Liquid Cooling Systems
1861
reads
KAORI and Partners Validate Immersion Liquid Cooling Technology Significantly Improve Electronic Design Automation (EDA) Efficiency By More Than 50%
The global leader in professional thermal energy technology, Kaori Heat Treatment Co., Ltd. (8996.TW), has joined hands with global server manufacturers Supermicro, Intel, 3M, and Samsung to successfully verify the " EDA Applications Get a Performance Boost With Immersion Liquid Cooling Systems", confirming that immersion liquid cooling system can provide IT systems and data center equipment to operate efficiently at lower temperatures, reducing energy consumption, thereby reducing the cost of total power expenditure and creating excellent power savings effectiveness.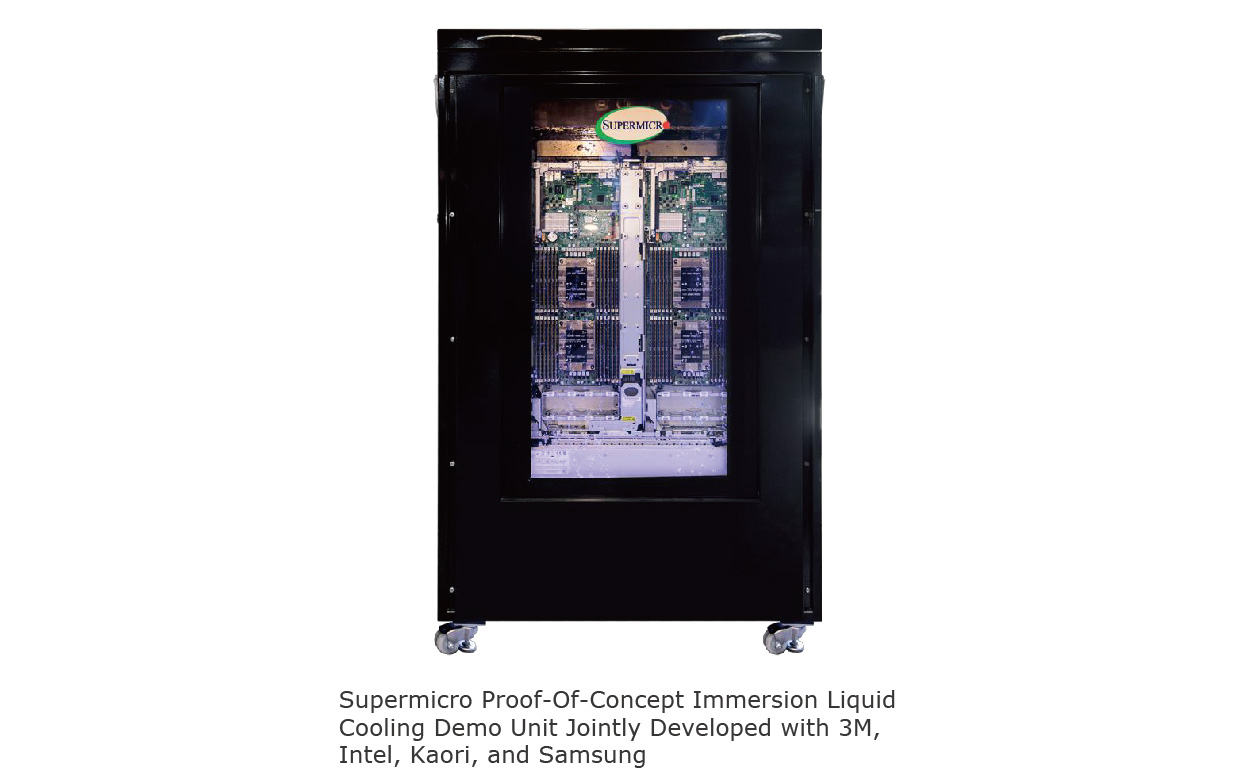 The content of the Supermicro white paper, for Electronic Design Automation (EDA) users, if using Intel's Xeon high-frequency processor 6244 or 6250, the traditional air cooling method needs to be at 0 degrees. In contrast, if it is placed in an immersion liquid cooling cabinet, it can reach 40~55 degrees without any problem, which means that the computing performance can be improved by more than 50%, which is what attracts the interest of the semiconductor industry in immersion cooling. In addition, what interests the semiconductor industry is that the special liquid, which was originally regarded as a high-cost immersion liquid cooling pad, is now a common cleaning agent material in the semiconductor process. It can be reduced due to the large amount, and because of the relevant experience in using this type of liquid, semiconductor process manufacturers are more willing to introduce this heat dissipation method.

In response to the global trend of carbon neutrality and net zero carbon emissions , Intel recently announced an investment of US$700 million to build a new giant laboratory and the first Open IP immersion liquid cooling solution, which will focus on immersion cooling, water resources utilization efficiency and heat recovery and reuse. Using immersion cooling technology that reuses energy will reduce carbon emissions by 45 percent compared to traditional data centers .
As stated in the white paper, new technologies such as EDA, AI and data analytics will require the fastest and most powerful CPUs and GPUs to handle these new workloads. Immersion liquid cooling technology provides data center operators with the highest performance system solutions. Therefore, for future data centers with higher power systems, liquid cooling will be required to replace air cooling to meet the demand for high-performance computing power.
In recent years, KAORI has actively developed immersion liquid cooling technology. The heat dissipation capacity of a single cabinet can reach 200KW. Its application areas include EDA, data center, AI, and high-speed computing. In addition, in terms of backup power support, the use of high-strength plate heat exchangers for waste heat recovery management can not only reduce the overall volume of 5G edge computing servers by 10%, but also increase energy efficiency by more than 20%. Connected edge computing environments enable new developments.
With the global pandemic COVID-19, business opportunities in the data center cloud have exploded. The immersion liquid cooling system is in line with ESG sustainability. Taking energy efficiency as the primary consideration, it can be advanced to the state of PUE (Power Usage Effectiveness) ≤ 1.1, which is more energy-saving and reducing carbon, fully in line with the international trend of low-carbon, friendly environment, and sustainable development.
---
Reference:
1. Supermicro white paper " EDA Applications Get a Performance Boots with Immersion Liquid Cooling Systems "
https://www.supermicro.com/white_paper ... per_Immersion-Cooling.pdf
2. Intel Makes Key Investments to Advance Data Center Sustainability
https://www.intel.com/content/www/us/e ... enter-sustainability.html
---
Contact us today to get more details. Request a Quote.