Latest News

Meet KAORI New Asymmetric Heat Exchanger!
3751
reads
KAORI has launched a new Asymmetric Brazed Plate Heat Exchanger B110 to deliver an effective operating range up to 100kW for heat pumps, heating, cooling and refrigeration systems with efficiency and reliability benefits.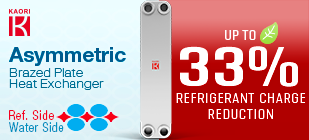 The significant refrigerant charge reduction in Heat Pump and Commercial Refrigeration systems not only reduces the refrigerant cost, but also offers advantages in environmental regulations and sustainability initiatives impacts.
The B110 design effectively helps to lower pressure drop by 50%, reduce refrigerant filling volume by 33%, increase water flow rate by 11% and cut the weight by up to 48% to overcome common impact on water-side pressure drop while maximizing system performance, energy efficiency and reliability.
KAORI Asymmetric Brazed Plate Heat exchanger design has a great benefit on heating, cooling and refrigeration systems that uses climate-friendly refrigerants, such as R32, R454B and natural refrigerants R290. Reducing carbon dioxide emissions and equipment operating costs over its lifespan.
Downloads
Contact us today to get more details. Request a Quote.